Living Wage Employer Certified!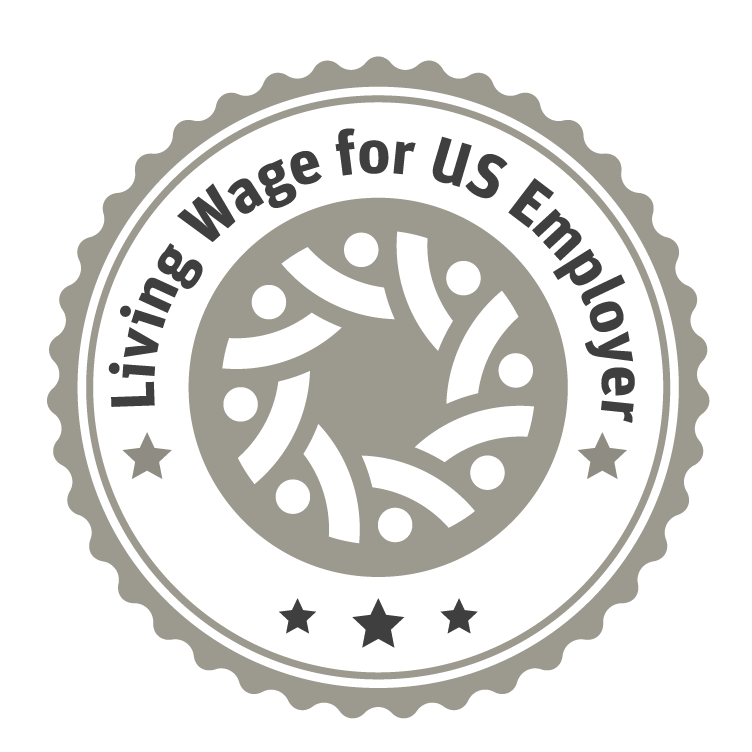 A quest to love full circle
We don't have to look far to see it. In our industry, the cost of doing business has been something to chase on a daily basis. Supply chain pressures are a real challenge. There is probably not a week that goes by that some vendor isn't struggling to keep up with their product, or shipping is delayed due to labor shortages in transportation. Gas prices continue to affect getting products to us, and costs of raw ingredients in our kitchens continue to fluctuate. Weather related floods and freezes have affected coffee costs on an industry where it is already challenging for coffee farmers to earn a living wage.   
At the Well, we try to balance it all, and we do that for the mission. Without a profit, we can't contribute back to the coffee growing regions with clean water. So, we monitor and manage as best we can. But these challenges are not only affecting the business, but its also affecting the people in the business. 
It's affecting each of us.
At The Well, we like to say We Love Full Circle. Actually, we want to do more than say it, we want to live it. We want to make sure we are sourcing our coffee responsibly, so our farmers can earn a living wage. We want to make sure we run a profitable business, so we can live out our mission back at origin with clean water. We are thankful that nearly 30,000 people have clean water thanks to the faithfulness of our customers over the last 10 years. 
But what about our staff?  Aren't they a part of the circle?
The definitely are – they are the hub of the wheel that this whole ship runs on. They are ones who serve our customers faithfully, introduce them to their new favorite drink and help them settle into their day. They are the ones who navigate the complexities and pressures of the service industry. They are the ones showing up faithfully every day.  Over the last several years, we began to incorporate different benefits and perks to make life a little easier. And in partnership with our friends at Living Wage for US, today we are encouraging others to make the same commitment. 
Today, we are announcing that we have been certified as a Living Wage employer by the third-party organization, Living Wage for US. I never want our employees to have to choose between paying rent and buying food when they must miss days when they are sick. I don't want them to struggle to afford healthcare. I don't want them to be stuck. I want to be the one who 'unstucks' them, so they want to stay. 
Back during the days of the pandemic and the cycle of quarantines, I made a commitment to our staff - if you had to be quarantined, I was going to pay you. I didn't know what that meant at the time, but we all know what it was like. One minute you're at work, the next you're exposed to someone and you're headed to get tested.  The pressures we faced as we served the public prioritized the health of our employees and our customers. So, some days it felt like a revolving door. Some days it was hard to cover shifts for all the employees who were out, and we had to close early. The tension of keeping the business afloat with the tension of caring for our employees was a daily struggle. But ultimately, it was a choice. And it was a choice that propels us further to continue to choose our employees. 
For those working at The Well, they enjoy access to a minimum take home pay of $15 an hour, various healthcare benefits, counseling and chaplaincy services, meals, insurance. We are thankful to provide these foundational benefits to them. But ultimately, it's more than what is on paper. It's what is going on in the room that matters. It's the culture of care that our staff show to each other. It's the environment they create for our customers.  It's those things that are impossible to put a price tag on; and when you don't have to worry where your next meal is coming from, it's easier to love your neighbor, your co-worker, your customer. 
We could build more water projects if I didn't provide these benefits to my employees. It's true. All these things are costly. But again, ultimately, they are a choice to build the 'wells' within my own four walls first, and I believe, this investment will multiply in ways that are not quantifiable. As my friends often remind me of my own propensity to care for others before myself, they say 'remember, you have to put your own oxygen mask on first.' So, I see this as an opportunity to ensure my team has oxygen to feel securely seated on the roller coaster of life. 
As we gather for our next cup of coffee, let's breathe deep, appreciating everyone along the value stream who has truly added value. Coffee isn't just from somewhere, it's from someone – and one of those someone's is your barista. Cheers!
- Mike Lenda, CEO of The Well Coffeehouse