Colombian La Yalena Natural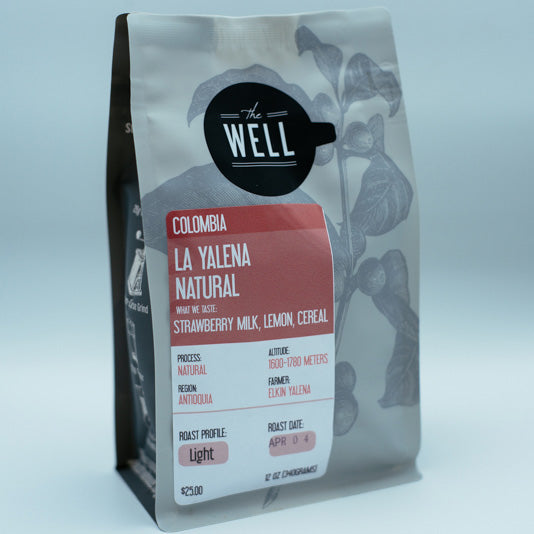 🚨  New Coffee Alert! 🚨
We've got a brand new limited-time only Colombian Natural coffee from Finca la Yalena. Much like a few other limited-release coffees we've had in the past, this is an absolute knockout coffee. The tasting notes are unique and delicious, so you don't want to miss out on this one. We taste Strawberry Milk, Lemon and Cereal.
Coffee isn't just from somewhere, it's from someone.

This is our first time sourcing from this farmer, Elkin, but with how this tastes it will not be our last. He along with his wife Fernely and daughter Dana Yalena (who was the inspiration for the farm's name) have been operating this farm in Colombia for a while now. Elkin originally was a coffee picker who saved his earnings to open his own farm. Over the years they have slowly added more and more land to it as they've been able to grow.
 As with many small business his first attempts into coffee farming for himself didn't go according to plan. He originally only had 500 trees, and that wouldn't allow for a sustainable business. He decided that the only way to grow sustainably was to drastically improve the quality of the coffee he was growing.  He accomplished this by focusing on honey and natural processing his coffees.
Honey and natural processing coffees requires more intentionality in picking. With washed coffees some impurities can be cleansed. With honey and natural coffees, workers must be more careful in separating the "bad apple that ruins the bunch" with the coffee cherries. Elkin wisely decided that one of the best ways to improve the quality was to pay high wages for more skilled coffee processors.
We've absolutely loved the stories we hear about inspiring coffee entrepreneurs on our journey to find more coffee sourcing partners. Elkin's decisions and continued innovation are shown in this delicious coffee. Through hard work, discerning changes and grit he's now producing one of the better coffees we've had to date.
Because of the limited amount of this specialized lot, we're only going to be able to offer it on a few fronts. Firstly, our single-origin coffee subscribers will be some of the first to receive this bag in their upcoming shipments. Secondly, in order to celebrate our new cafe on Music Row we'll be offering it on our Pour-Over list as well as bags on the retail shelves only in available at Koinonia.
Subscribe HERE so you don't miss out on the next exclusive coffee!