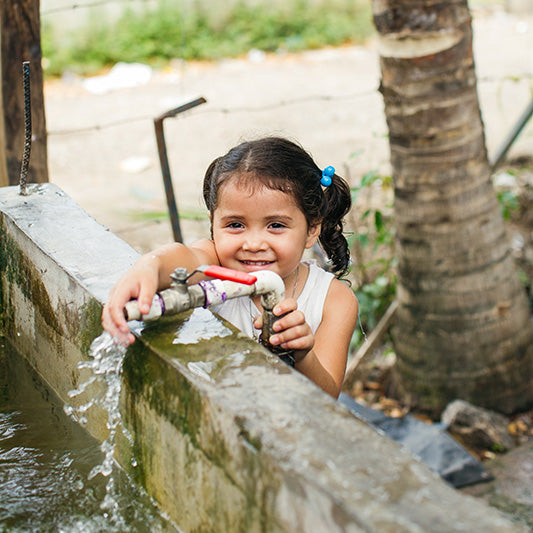 We feel the weight too. 
The journey seemed to go on longer than I expected. Probably because I didn't know where I was going; but I kept walking, following the family who invited me to join them on a walk to collect water. The Zambian sun seemed to bake down on me as we walked through the fields of tall grass. I'm sure I looked like an unusual traveler walking down this well worn path as children from the village came to join me on the journey, playing games and communicating through smiles as we walked. Over hills, stepping over sleeping dogs, jumping over rocky areas, losing my footing as we traveled the dusty soil. From time to time, the family turned around to see if I was still with them, smiling at the look of Pied Piper bringing the village with him. 
The longer we walked, I noticed my feelings shift from "I'm going on a walk" to the impact of this walk. Smiles turned to silence. Eventually, we will have to turn around. And not only will we be turning around, but we will be carrying water. Heavy jerry cans of water. Yet, we weren't turning around yet. We were still walking.
The walk seemed to come to an abrupt stop. A father was carrying his young daughter who seemed to be sleeping, but he didn't seem like he was carrying someone who was sleeping peacefully. He stopped to talk to the family, and they responded in a concerned tone, sending him the opposite direction on the path. Through my translator, I learned that the little girl was ill - possibly from cholera or some of the water-related diseases often found in these regions. He was on his way to the clinic, desperately looking for someone to help him. The clinic was a few miles away, and he was determined to get there.  Although this walk for water was over a decade ago, I can still see his face. Desperate for his daughter. Desperate for help. 
We kept walking and eventually reached the water collection point. It wasn't a faucet or well or stream. It was a hole. There was water underground, and this was the way this community had found it. Nearby, women were doing their laundry. Dogs were drinking from the hole as people shooed them away. A crying baby was getting a quick washing. The activities around this muddy hole were busy. Jerry cans were lined up while women and children dipped their cans under the water to fill up. I stood in line and attempted my best to collect the water. I tried my best to act like I knew what I was doing, but the women and kids giggled as they saw me attempting to fill up my jerry can. I was trying not to get wet and fall into the hole, which the local community seemed much more skilled at than this evident visitor. It reminded me that I had a lot to learn from these new friends, including the skill of collecting water. 
When I lifted the jerry can, it was about three-fourths full. Based on its weight, it felt heavy enough. Realizing that the average filled can is 40 pounds, it quickly brought to mind the realization of the strength of the women and children in this community. I never have to carry anything like this heavy for a substantial period of time, but they have to do this daily. Every day. 
As I walked back, I tried my best to find a comfortable way to carry the water, but there wasn't anything comfortable about it.  From time to time, I would misstep and some of the water would slosh out. Knowing that this water was a precious resource, it is important to take the right steps. I found myself going slower, which caused me to feel the weight of the water even more. On top of that, I also knew that this wasn't clean water. I was bringing water home that has the likelihood to make this family sick. However, they had no choice. It was this water or no water. So, I kept walking.
At the Well we feel the weight too. We know that many of the communities from which we source the world's greatest coffee also have to make this walk for water. Globally 1 in 10 people struggle to have access to safe, reliable drinking water. Many of these people live in rural communities, similar to the communities that grow coffee. That's why you have helped us bring clean water to over 20,000 people in the past 10 years. There is such a need, and we are just getting started. 
This year for World Water Day, we bring awareness to the great need in Honduras. We directly source great coffee from Edi Sarmiento from San Rosa de Copan. His Finca La Camotera has been producing amazing coffees for us for nearly 5 years. Yet, communities near him were ravaged by recent hurricanes Iota and Eta, destroying their water sources.

Sometimes development is one step forward and one step back. Today, we have the opportunity to help them move forward again as we work with Water for People to restore water to these communities. $20 will bring water to a person in this community. Let's show them how thankful we are for the coffee we enjoy, by bringing life through clean water to Honduras. Our goal is to help bring water to 250 people this World Water Day - join us! Donate here.
- Mike